About Dr. Brown
Often when you drive by Lansing Chiropractic between Rogue's Harbor Inn and The Lansing Community Center the parking lot is full. The office holds the practice of Robert Brown, D.C., D.A.B.C.O. -- also known simply as "Dr. Bob." He has practiced in Lansing since 1986. Before that he practiced in Trumansburg with the late Dr. James B. Juenger for three years.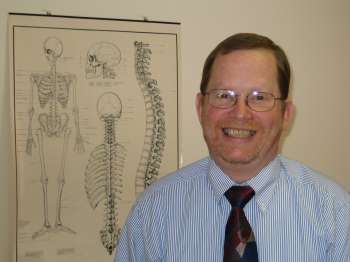 Brown specializes in activator methods, a device used in a gentle form of chiropractic. It uses a high velocity force to manipulate your spine, while providing the greatest amount of control over the adjustment. The technique is well tolerated for the very young, very old and those in a lot of pain but is highly effective.
Brown got interested in chiropractic because members of his family went for adjustments. Then he met a chiropractor in college. "I was in school, I was going to be a medical lab technician. During "club hour" at school there was a chiropractor trying to recruit students." He explained chiropractic theory, how all the nerves come down through the spinal chord and reach out and control everything. If something goes wrong in the spine area other parts of the body can be affected.
"I thought that sounded quite interesting," Brown says. At the suggestion of his Mother's chiropractor he went to state and local meetings to get a flavor of what chiropractors did. "I started hanging around with some chiropractors and here I am. What really sold me was how great it was that you could affect the body without having to poison it. It seemed like a nice way to do things. The theory and philosophy sold me."
After getting an A.A.S. at Nassau Community College Brown attended Logan College of Chiropractic, where he earned his Doctor of Chiropractic degree with honors in 1982. Post graduate work included 400 hours of chiropractic orthopedics (D.A.B.C.O.), 100 hours of advanced studies in spinal and skeletal radiology, 36 hours of neuromusculoskeletal rehabilitation and he has held an advanced proficiency rating with Activator Methods for 30 years.
Brown says the training was similar to medical school, but with differences. Chiropractors don't spend much time on pharmacology, because they choose not to prescribe medicines. They do more radiology than most medical students, because many take and read their own x-rays. They don't learn surgery, though he says in some states they do perform minor surgery. They learn about drawing blood and setting fractures, which some states allow (New York is not one of them). And like medical students, the advanced chiropractic students learned their trade by working in a clinic at the college.
Just out of school, Brown worked with his mother's chiropractor on Long Island for about three months, then began going to meetings of chiropractors in New York City. The group conducted sessions on the business end of running a private practice. At one of these meetings Brown met Dr. James Juenger of Trumansberg. About two weeks later he got a phone call.
Juenger's office wanted him to come up to Trumansburg for an interview. Brown recalls, "I said 'where's that?' They said it's up near Ithaca, and I said, 'well, where's that?' I had been around the state, but I'd never been in the Finger Lakes region." It turned out to be a match. Juenger had a busy practice, we both used the Activator Method and we both attended Logan College.
Brown practiced in that office for three years, then the two decided to become partners in a Lansing office. For the most part Juenger stayed in Trumansburg while Brown practiced near the Lansing Post Office. In 1993 Brown opened his own practice in its current location.
Brown met his wife when he was home on Long Island during a break from chiropractic college. They dated for a while, and they visited back and forth. She was trained as a radiology technician. After he graduated he proposed and they got married in 1983, almost immediately moving to Trumansburg. They have a daughter, Brittany, who is currently resides in Chicago.
Now Brown has two employees, Geraldine (Jerry) Ford and Jo Ann Davis. Massage Therapist Helen Tseng rents space, affording patients that service as well. Brown says all kinds of people come for adjustments. He says one 90-year-old patient drove to his office last week in the snow storm after going bowling. Last year he made a house call on another patient who is over 100 years old. The youngest patient he has worked on was only 1 1/2 years old who was suffering from recurring ear infections and having trouble sleeping at night.
Brown actually makes house calls when a patient is bed-ridden, but that only amounts to about one per year. He says that after practicing for so many years he still enjoys it. He notes that the profession has changed quite a bit. When he started the American Medical Association wanted nothing to do with chiropractors, but now it is not uncommon for a medical doctor to refer patients, and approach him to provide services. He says that the perception of the profession has also changed for the better. Perceptions have changed. The Opioid Crisis has demonstrated the need to consider othe options when treating pain.
---
Reprinted from LansingStar.com